Gear For Sale
Email: rich AT richhorner DOT com
2004 Fender American Deluxe V 5 String P-Bass - $1243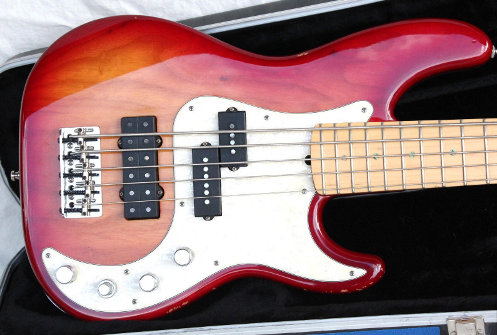 This is an amazing bass. It has a 1 piece maple neck and 3 piece ash body with transparent red sunburst/cherryburst finish. The neck joint is contoured and this is one of the last ones made with the dual coil humbucker in the bridge which sounds awesome.
I played the 4 string version of this and it sounded amazing so I went online to find the 5 string version which is this bass. It plays and sounds awesome but, sadly, something about the neck profile hurts my left wrist. I can't play this bass. It just sits in the case which is a waste so I'm putting it up for sale.
There is a fair amount of chipping around the edges. I never notice stuff like this because I care about how gear plays and sounds but mentioning it because apparently a lot of people do care. The butt of the case doesn't close cleanly, probably not a big deal outside of extreme weather. The midrange pot was wonky for a minute so I ordered a replacement but didn't end up using it as I fixed the pot. I'm including the spare, never opened pot.
Pictures
1990 Ibanez Universe - $1199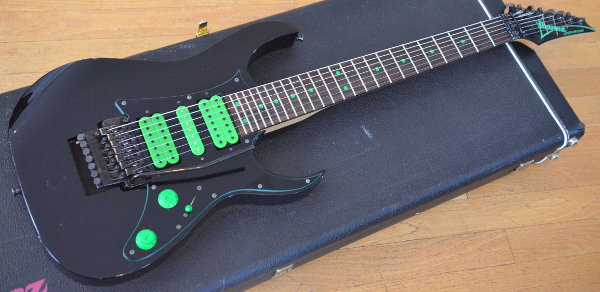 This is one of the original Ibanez Universes which was one of the first 7 strings ever made and still one of the best. I own 4 of them. Features a 1 piece maple neck with Dunlop 6140 frets. Not to be confused with the current green/black UV70P which has an inferior trem and laminated neck.
Guitar has a fair amount of finish scratching and some very minor chipping accumulated over 25 years but absolutely no sonic or playability issues. This guitar plays extremely well, the neck is straight, the frets are in great shape and it sounds fantastic.
Steve Vai recently said his 1990 green/black UV was one of the best sounding guitars he owns. Watch here:
https://www.youtube.com/watch?v=WQVcFj7MIJA#t=191
The great sound comes from the 1 piece maple neck and the 2 piece American basswood body. This is very different wood than the basswood found on even the excellent Japanese RG series guitars. This wood is much denser and brighter and is the type of wood used in Suhrs.
I have a couple different non-original cases. One of your choice included.
Pictures
Steinberger Synapse ST-2FPA TranScale - $626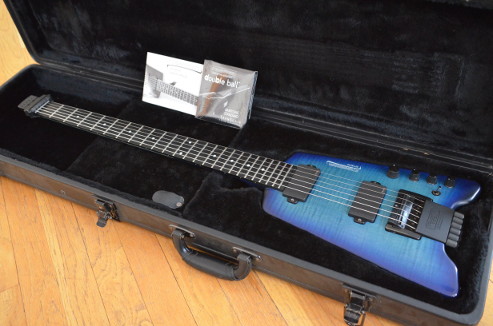 Really exceptional guitar in trans blue.
This guitar has an adjustable scale length and can be as long as 28.5 inches which is a very long baritone. It can be adjusted in seconds to the standard Fender scale of 25.5".
Has EMG 85 and EMG 81 pickups along with a piezo electric for acoustic-y tones. Blend pot allows you to use both EMGs and the Piezo at the same time.
Probably one of the most versatile guitars ever built. Looks gorgeous and plays great.
Steinberger Graphite U-channel neck but still with a truss rod. Transparent blue finish on awesome flame maple top.
These normally come with a gig bag but this one comes with a special hard case just for this model which is a major upgrade.
Of all the stuff I'm selling, this is the guitar I'm most reluctant to sell. Very unique with lots of great tones.
Pictures
Ibanez RG7620 parts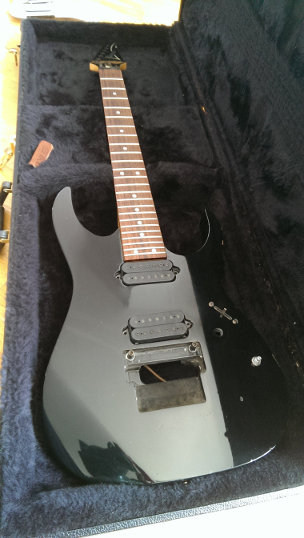 First year (1998) black body. 2 1999 necks back when they were still one piece maple.
Bass side of the back of the one neck has been sanded down to remove the clear and thin it out a bit.
Body has some swirling/scratching that I couldn't really capture on my phone camera. Comes with anchors and studs.
Have 1 set of humbuckers but also have other pickups available (see below).
Have a couple cases that will fit this stuff.
Pictures
Bare Knuckle Warpig 7 - $105 front back
Lace Drop & Gain bridge new in box - $77 front back
Dimarzio Evolution 7 new in box - $50 front back
Dimarzio Evolution 7 - $45 front back
Dimarzio LiquiFire 7 - $45 front back
Dimarzio LiquiFire - $40 front back