Gear For Sale
Email: rich AT richhorner DOT com
1990 Ibanez Universe - $1199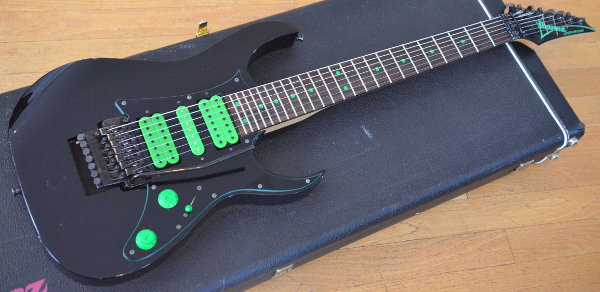 This is one of the original Ibanez Universes which was one of the first 7 strings ever made and still one of the best. I own 4 of them. Features a 1 piece maple neck with Dunlop 6140 frets. Not to be confused with the current green/black UV70P which has an inferior trem and laminated neck.
Guitar has a fair amount of finish scratching and some very minor chipping accumulated over 25 years but absolutely no sonic or playability issues. This guitar plays extremely well, the neck is straight, the frets are in great shape and it sounds fantastic.
Steve Vai recently said his 1990 green/black UV was one of the best sounding guitars he owns. Watch here:
https://www.youtube.com/watch?v=WQVcFj7MIJA#t=191
The great sound comes from the 1 piece maple neck and the 2 piece American basswood body. This is very different wood than the basswood found on even the excellent Japanese RG series guitars. This wood is much denser and brighter and is the type of wood used in Suhrs.
I have a couple different non-original cases. One of your choice included.
Pictures
Ibanez RG7620 parts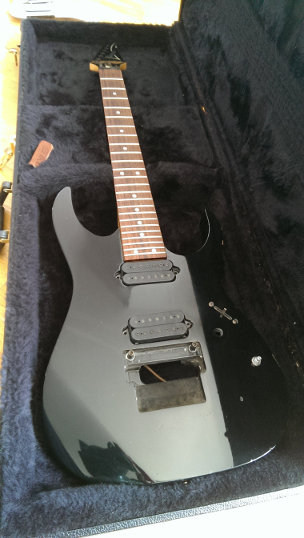 First year (1998) black body. 2 1999 necks back when they were still one piece maple.
Bass side of the back of the one neck has been sanded down to remove the clear and thin it out a bit.
Body has some swirling/scratching that I couldn't really capture on my phone camera. Comes with anchors and studs.
Have 1 set of humbuckers but also have other pickups available (see below).
Have a couple cases that will fit this stuff.
Pictures
Bare Knuckle Warpig 7 - $105 front back
Lace Drop & Gain bridge new in box - $77 front back
Dimarzio Evolution 7 new in box - $50 front back
Dimarzio Evolution 7 - $45 front back
Dimarzio LiquiFire 7 - $45 front back
Dimarzio LiquiFire - $40 front back