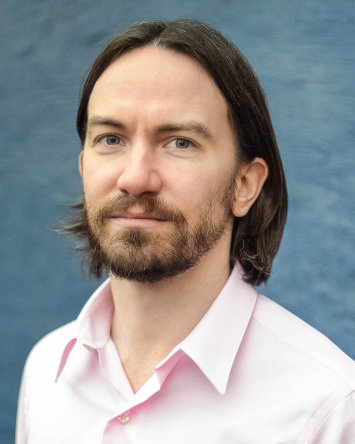 Richard Edward Horner
is a computer engineer, electric guitar virtuoso, concert music and opera composer.
Richard has been hailed as "a great composer" by Chen Yi, an "electroacoustic genius" by Christopher Theofanidis, and "the future of shred" by Jasun Tipton (Zero Hour). Libby Larsen, acknowledging Richard's defiance of expectations and classifications, called his music, "the freshest stuff [she'd] ever heard." Regarded by some to be the foremost authority on electric guitar technique and one of the greatest to have ever played the instrument, Richard combines his virtuosity with his extensive training in computer science, physics, electrical engineering, computational theory and audio production to create music that is innovative without peer or precedent. Influenced by his wealth of experiential and musical knowledge, Richard's music is meticulously architected while still being organic, communicative and evocative.
Richard has composed, performed and recorded hours of his own music ranging from works for solo acoustic instruments to processed chamber ensembles to large symphony orchestra to his insane wall-of-sound generating solo electric guitar setup. Richard's music has been performed and recorded by such musicians and ensembles as Michael Straus, the Esterhazy String Quartet, the Delorean String Quartet, the Peabody Symphony Orchestra and Richard himself. Richard has also worked as a session musician, audio engineer and producer for a range of artists from established masters such as Phyllis Bryn-Julson to hip new music specialists such as CAGE and Alarm Will Sound member Courtney Orlando to the avant-garde symphonic rock ensemble Kayo Dot (formerly maudlin of the Well).
Richard is working on a draft specification for an extensible standardization of electric guitar notation and a comprehensive graded method system for the instrument. Richard is also working on his music theory book entitled Referential Structuralism in which he seeks to unify all aspects of the construction of developmental music through their common underlying reliance upon the physical principals of harmonic vibration and the evolutionary role of cognitive psychology. When not working on music, Richard works with people around the globe on open source software such as Nagios and Sabayon GNU/Linux in a concerted effort to better life in this technological age.
Richard holds master's degrees from the Peabody Conservatory of the Johns Hopkins University in Composition, Computer Music Composition and Computer Music Performance1 where his study was fully funded by an awarded graduate teaching assistantship in computer music and his major teachers were Michael Hersch (Prix de Rome, Guggenheim Fellowship, Berlin Prize) and Dr. Christopher Theofanidis (Prix de Rome, Guggenheim Fellowship, Fullbright Scholarship and six time ASCAP Morton Gould Award recipient). Richard also graduated summa cum laude from Berklee College of Music with a bachelor's degree in Composition where his instrument was electric guitar. His teachers included Joe Stump (Reign of Terror, Holy Hell), John Bavicchi, Yakov Gubanov, Jon Finn, James Russell Smith and Don Lappin. Prior to that, Richard was a member of the University of Washington's top 10 Computer Science Department where he studied computational theory, digital logic, hardware design and programming with Rimli Sengupta, Martin Dickey, Larry Snyder, Jason Hartline and Alon Halevy (formerly Alon Levy) while working alongside Dave Dittrich. Richard also pursued a triple minor in mathematics, physics and music and studied computer music at the university's Center for Advanced Research Technology in the Arts and Humanities (CARTAH). Richard is proud to receive continued mentoring and support from Libby Larsen.
Richard plays Roger Gresco handmade custom guitars and uses the GNU/Linux operating system.
1. The department chair denied Richard's request to pursue the master's degree in computer music performance for unknown reasons. Richard completed all the necessary coursework (81 graduate credits) and gave the required recitals but did not receive this third master's degree.